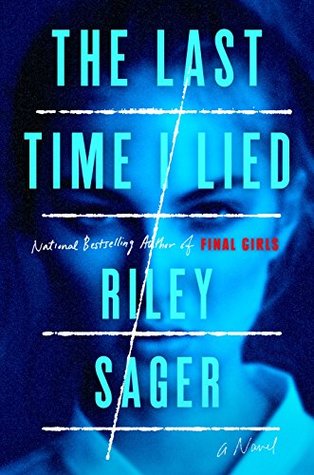 Want to play a game? It's called truths and a lie. It's easy to play. I will start. I will tell two truths and one lie and you need to determine which is the lie. Are you ready to play? This should be fun won't it?
Let's join Vivian, Alison, Natalie and the new player Emma at summer camp. They are masters at the game and as Emma watches one night, the three girls leave their cabin never to be seen again. Now let's fast forward fifteen years. The girls vanished that night so long ago, and now Emma has turned into an up and coming artist in the New York art scene. Emma paints scenes of the forest, scenes where she conceals the missing girls. Scenes are always of the forest, hidden, mysterious, and dangerous. It has become an obsession with her and one that might just be solved and conquered when she receives an invitation to teach art at the newly reopened camp where the three girls disappeared on the night so long ago.
Camp Nightingale, run by the wealthy Franny and her two adopted sons will again bring girls into their  environment. It is a chance for Emma to find out what happened. It is a chance for Emma to chase away those demons which have plagued her these fifteen years. And yet, it is a place where those phantoms and ghosts of long ago exist if only in Emma's mind. Oh yes, there are clues. Clues left behind by Vivian. Clues and discoveries that offer terror, deception, and maybe even a repeat of the lost girls of years ago. Will Emma find those lost girls? Will she come to a reckoning of the lies that were told. Will the game again rear its ugly head and make for a possibly deadly outcome?
Mr Sager has written a wonderfully layered thriller that had a plethora of twists and turns. He wove a story as deep as the forest and as twisted as the branches of the trees that lived there. Still want to play that game?
Thanks you to Riley Sager, Dutton Publishing, and Edelweiss for a copy of this book. "Lies and secrets… They eat away what is good and leave only destruction behind." (Cassandra Clare) Truly, in this story, any goodness is overwhelmingly overshadowed by the lies and deceptions. Come now let's play a game!
  Riley Sager is the pseudonym of a former journalist, editor and graphic designer who previously published mysteries under his real name.
Now a full-time author, Riley's first thriller, FINAL GIRLS, became a national and international bestseller and was called "the first great thriller of 2017" by Stephen King. Translation rights have been sold in more than two dozen countries and a film version is being developed by Universal Pictures.
Riley's next book, THE LAST TIME I LIED, will be published in July. It was inspired by the classic novel and film "Picnic at Hanging Rock" and one horrible week Riley spent at summer camp when he was ten.
A native of Pennsylvania, Riley now lives in Princeton, New Jersey. When he's not working on his next novel, he enjoys reading, cooking and going to the movies as much as possible. His favorite film is "Rear Window." Or maybe "Jaws." But probably, if he's being honest, "Mary Poppins."