Martha Jefferson was born on September 27, 1772, at Monticello, her father's estate in Virginia, which was then British America, to Thomas Jefferson and Martha Wayles Skelton. During her parents' ten years of marriage, they had six children: Martha "Patsy" (1772–1836); Jane (1774–1775); a son who lived for only a few weeks in 1777; Mary Wayles "Polly" (1778–1804); Lucy Elizabeth (1780–1781); and another Lucy Elizabeth (1782–1785). Only Martha and Mary survived more than a few years.
Martha was tall and slim with angular features and red hair, and was said to have closely resembled her father. She became devoted to him.
After having read and so enjoyed Stephanie Dray and Laura Kamoie's book My Dear Hamilton, I knew I needed to read their America's First Daughter. Happy to say I was not disappointed in their writing, the story they told, and their attention to the life of Martha, (Patsy) Jefferson.
Patsy was totally devoted to her father, Thomas, and knew how much he loved his family. After her mother died, soon after the birth of her last child, her father was despondent promising his wife, Martha, that he would never marry again. Jefferson suffered her loss greatly not reemerging until months after her death. In the interim, Patsy, only twelve at the time, undertook the family duties. Later, Patsy moved with her father to Paris, where he assumed the duties of being our Minister to France. Patsy and her sister, Polly, were sent to a convent school in Paris, and lasted there until she expressed an interest in becoming a Catholic and later on a nun.
Returning to America and eventually seeing her father into the Presidency, Patsy became involved in the affairs of the White House. She also probably knew of the relationship that had been developing between her father and Sally Hemmings and the children who  ensued from this relationship. She married at eighteen, Thomas Randolph, a man who later became an alcoholic forcing Patsy to separate from him. They had thirteen children, eleven of which survived into adulthood.
This was a fascinating story showing what is the best in the historical fiction novel genre and giving those who love this type of book many happy hours of intriguing thoughts and words. Patsy's life was not an easy one. She spent her years caring for her children and the father she so loved. At his death, hard as it is to believe, Jefferson was destitute and Patsy was forced to sell their beloved Monticello to settle his debts.
As always when reading about our country's past, one can't but help to think of the debt we owe our forefathers, and the women who stood both next and beside them. Learning about these women and the sacrifices they made to make this dream of a republic form of government succeed is truly both admirable and awe inspiring. I recommend this book most highly for giving this reader an insight and comprehension of what it was like to be the daughter of a founding father. Thank you Ms Dray and Ms Kamoie for a look into the past that was riveting, captivating and fascinating.
https://www.goodreads.com/videos/99497-america-s-first-daughter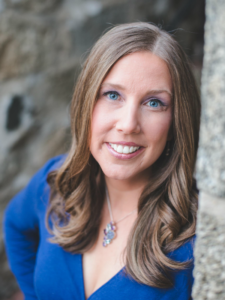 Stephanie Dray
Laura Kamoie