You know book lovers that feeling you get when you see a cover and a blurb about a book and you know in your head that you just have to read it? Perhaps it is the anticipation, the wanting for this book to be spectacular, the need to read it from start to finish that propels you. Perhaps also it is this anticipation, that sets higher goals then this book is able to reach and sadly this was the case for me with Sold On A Monday.
A want to be newspaper reporter sees a sad sight and snaps a photo. Later, it is believed that he has a gem of an idea for a story, a story that might propel him into the position at the paper he so desires. The sign is that of two young boys sitting on a porch. They are being sold, a result of the effects of the depression where life became so onerous for Americans that a sight such as this tragically happened. The reporter, Ellis Reed returns to find these boys and sees the house deserted and the children gone. So Ellis stages a photograph using two other children and from this the photograph a story and tragic events ensues. The children in the second photo are gone, sold……Ellis must find them and what happened to these young children.
He is joined on this journey by Lillian Palmer, a young woman also looking for a way to better herself and follow in the footsteps of Nelly Bly. Lillian herself carries a secret and she an Ellis search for these children following quite a circuitous trail to their possible whereabouts. Their search leads to heartbreak for the mother of the children of the staged photo.
This book has such an excellent premise and I was hopeful that it would provide an excellent story. However, sadly, I was disappointed. I felt a lack of a connection with the characters, as the book seemed to lack that emotional tie so needed in a book of this sort. There was just not that punch I felt this book required, although the author did a fine job with her descriptions. I enjoyed her author's note about the 1948 photo which inspired this book. I wished so much that she had followed up with that photo with its tragic story instead.
This was a quick read, one that I read with a group, The Traveling Sisters on goodreads. We each came away feeling the same way about this story.
Thank you to Kristina McMorris, Source Books Landmark, and NetGalley for an advanced copy o this book.
The picture that inspired the story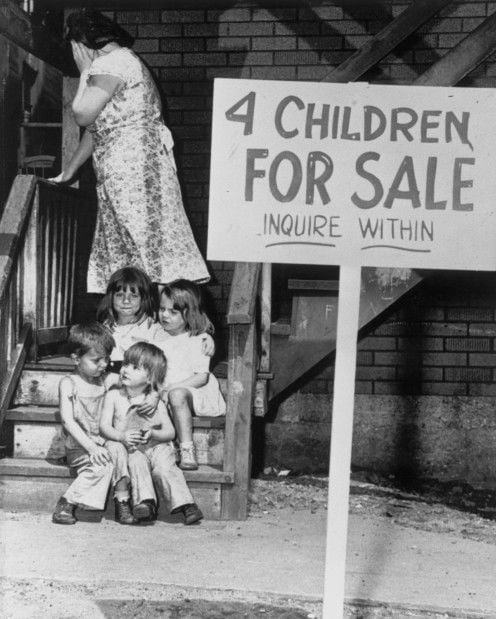 and the article about it
https://www.nwitimes.com/news/local/lake/hammond/sold-off-siblings-shown-in-old-photo-tell-their-stories/article_1c095598-89f4-584b-891b-7ef48a1e2082.html
KRISTINA MCMORRIS is a New York Times and USA Today bestselling author. Her novels have garnered more than two dozen literary awards and nominations, including the IMPAC Dublin Literary Award, RWA's RITA Award, and a Goodreads Choice Award for Best Historical Fiction. Inspired by true personal and historical accounts, her works of fiction have been published by Kensington Books, Penguin Random House, and HarperCollins.
Kristina's forthcoming novel, SOLD ON A MONDAY (Sourcebooks Landmark, Sept 2018), follows her widely praised novels THE EDGE OF LOST, THE PIECES WE KEEP, BRIDGE OF SCARLET LEAVES, and LETTERS FROM HOME, in addition to her novellas in the anthologies A WINTER WONDERLAND and GRAND CENTRAL. Prior to her writing career, she hosted weekly TV shows since age nine, including an Emmy Award-winning program, and has been named one of Portland's "40 Under 40" by The Business Journal. She lives with her husband and two sons in Oregon, where she is working on her next novel. For more, visit http://KristinaMcMorris.com