When ethics, morality and the law converge, there is sometimes a clash, a loud trumpeting of values, of doing what's right, of defeating the obvious and embracing the integrity of feelings, wishes and desires. Can one reconcile doing what is right and yet break the laws of man and morals?
We have all been taught that children belong with their parents, especially the mother. Legalities aside, we are told, a child's needs are best fulfilled by the mother. It is the mother who nurtures, who coddles, who loves, who provides that sustenance that is so needed for a child's development and well being. But, what if the mother is not a nurturer, is not a loving kind provider, is not a port for the child to feel loved and comforted, is not a provider of the basic needs of a child. What then should be done? What if this mother only administers hurt, either in words or actions? What if this mother exhibits hate?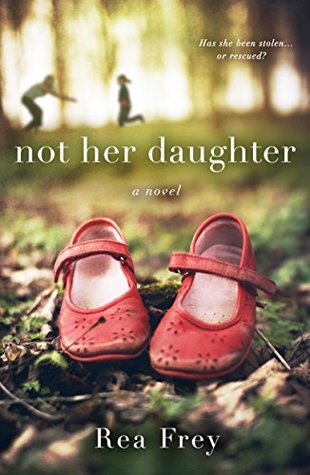 Emma, is a sad young child. She is lonely, mistreated at home, ignored by her father, bereft of the love of a parent, immersed in a life of pain and hurt. Sarah Walker is a young woman, a woman who crosses paths with Emma and sees the inner child. She sees the hurt, she sees the neglect, she is a witness to the suffering. She can't let it go on can she? What is Sarah to do? She acts and then is a kidnapper.
There is the mother who lacks the ability to see really see her child. Amy only sees her past, a road of disappointment, a path of failures, that have molded her into what she is, an abusive parent. When Emma goes missing, she is not even sure she wants her back. Should she get her child back and should the fact that Sarah is a lawbreaker, a felon if found and convicted, be the determining factor in Emma's well being? Are all women destined to be mothers?
There were many complex factors presented in the story. It was an ethical and moral quagmire that really had little solution other that that the life of a child is worth everything. I enjoyed this story for all the aforementioned reasons, however, there were some issues that I had and for a moment I am concerned with those. Why was it that the school, the teachers, the administrators did not notice the marks and bruises on Emma? How did they not see the emotional abuse suffered by this child who was so reticent to be a part of her school community? The school community is required by law to report suspected abuse. Teachers, administrators are trained to be excellent witnesses to the signs of abuse and yet in this story the school was absent. The ending of the story leaves more questions than ever as we see an ending that we might have hoped would occur and yet it is its abruptness that is unnerving. Would life really be like this or is it an illusion that safety and happiness can be achieved when one is hiding a very deep dark secret? But…this could never happen right? or could it?
Thank you to Rea Frey, St Martin's Press, and NetGalley for providing a copy of this thought provoking novel. One can imagine many discussions revolving around this topic.
  Rea Frey is the author of four nonfiction books.When she's not exercising, mothering, adulting, wifing, eating, or writing about herself in the third person, you can find her hard at work on her next book and ghostwriting for other people. http://www.reafrey.com