God must have been on leave during the Holocaust. (Simon Wiesenthal)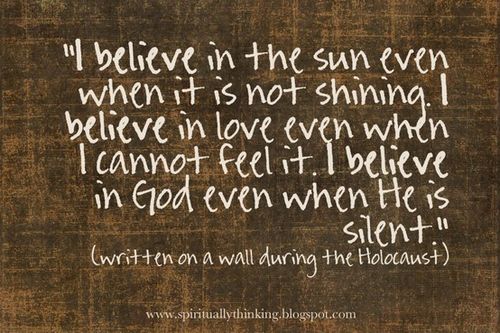 This was one of the most significant memoirs that I have ever read. It transcends the words written to put you, the reader, into the heart, mind, and soul of Alex, a man destined to survive the unendurable, to lack the ability to forgive himself, and to look for help through the religion that seemed to have abandoned him. This is a story of Alex, a man who will tell you his story, tell you his unbearable pain, and find in himself the way to see himself as a survivor no matter how the Nazis tried to take his very soul. This is the man of
It is so very hard for one to imagine being a survivor, being the one person who came through while millions of others perished. One bears the guilt, the knowledge of events so horrendous that reading of them turns one's heart and mind towards revulsion over the fact that men and women did this to other men and women simply to follow an ideology that was racist in its most heinous degree. We have to keep reminding ourselves that what Alex relates eventually, through the help of a Jewish teacher, is not some bizarre piece of fiction, it was reality. It was Alex's reality and his reality is the fact that each and everyday, Alex lived every second in a nightmare world worse than any that could be conceived by anyone.
This was a story of Alex's search for forgiveness. He was a part of the
Sonderkommando
, forced to work in the most abhorrent condition, that of watching his fellow Jews, men, women, children, and infants condemned to the gas chambers. Hearing their screams, cleaning up the chamber after the destruction of the gas, Alex witnessed daily the role of evil that men succumbed to. He saw cruelty that was unimaginable, death that was inevitable, and life that was so devalued wondering where in this hell was God? How could God have let this carnage happen?
Alex loses everything, family, love, self respect, and the will to find God in his survival. He consoled himself for a time with the concept that he was alive to tell the story, to relate the atrocities, to be a bearer of the souls that were extinguished. However, for Alex and those like him, their survival took a horrendous toil. How could he possibly find his way once again in the world after the way he lived and what he bore witness to at seventeen years old during his time at Auschwitz?
"The fact that good people can be forced to do wrong doesn't make them less good. But it also doesn't make the wrong less wrong."
It was an extremely difficult story to read, oftentimes requiring me to put aside the story as I thought of the heinousness of what Alex related. I can never understand how we, who consider ourselves members of the human could ever have let this happen. This continues to be is unfathomable, that ability to do unto others what was done to these people.
I recommend this memoir most highly. Reading this memoir is a journey through the hell that meet Alex and others everyday. It is a reminder to all that barbarity, wickedness, and monstrosities existed and still do to this very day.
Thank you to Yael Shofar, who has written a story that was passionately related, yet agonizing to read. Thank you also to Kasva Press LLC, and NetGalley for a copy of this emotionally heartrending story.
"It's true that the hatred is still there. But it doesn't change anything. Our obligations are the same—to live and sanctify all life with our own. To participate in the world the best we know how, leaving it a better place than we found it. To raise families and teach our children to value life. What more can we do? Should we refuse to live because of the threat of death hanging over us? We've always been under sentence of death. Every generation that lives out its days in peace is a victory. Every day we live is a victory."