May your Sunday be filled with wonderful and amazing things, and perhaps lots of reading too!
Abortion has divided us as a nation into what seems to be two camps, either it seems you are pro abortion or you are against it. It is an issue that has been fought over ever since the controversial Roe vs Wade decision in 1973. Never one to shy away from a contentious subject, Jodi Picoult tackles the question of abortion on in her new book :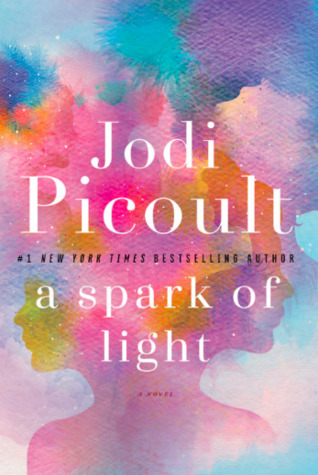 It is hard to keep your head clear and read a book such as this, and try not to judge what the author says and feels. It is quite evident that Ms Picoult falls on the side of abortion in her treatment of this topic. We do in her characters see those who are present in a clinic waiting either for their abortions or looking to prepare for one when a gunman, purported to be pro life enters the clinic kills two people and then holds the others hostage. A negotiator from the police department is called to the scene, not realizing at first that his daughter and his aunt are inside that clinic, the aunt wounded by the gunman and his daughter hiding in a closet. It is a tense climate, one where the negotiator has more than a job in his mind, his beloved daughter is inside and he must save her.
What I appreciated about the book was the handling of this disputed topic. It is one we see so often in the news as one side accuses the other with no real solutions to this quagmire we find ourselves in. Should women have rights…absolutely, should the unborn have rights..well there lies the issue does it not? "We are all drowning slowly in the tide of our opinions, oblivious that we are taking on water every time we open our mouths."
I have always thought the strength in Ms Picoult's writing was her ability to do just that write a story that moved you from one point to another. Unfortunately for me, this book fell a bit short in that. I found the story jumped around too much, it was like static you hear and then wonder why it happened. There was too much back and forthing in the book causing me at times to be confused, asking myself huh where are we, who are we portraying? I never expected this book to change my opinion about abortion. I don't really think any book could. I just believe that this subject was a bit marred by the unevenness of the telling, the format not being conducive to this hot button topic, and for those reasons, I am somewhat disappointed.
Thank you to Jodi Picoult, Ballantine Books and NetGalley for a copy of this novel.
   Jodi Picoult is the author of twenty-four novels, including the #1 New York Times bestsellers Small Great Things, Leaving Time, The Storyteller, Lone Wolf, Between the Lines, Sing You Home, House Rules, Handle with Care, Change of Heart, Nineteen Minutes, and My Sister's Keeper. She lives in New Hampshire with her husband and three children.