Good Morning Monday. Here you are once again kicking off the first Monday in November and it's daylight savings as well.
On this November morning, I am reviewing the adorable sweet book called,
The Japanese people have somewhat of a fascination with cats. They even have what's known as an island of cats called Aoshima, as well as perhaps a dozen more cat islands around Japan where the population of cats outnumbers that of humans. They roam free, taken care of by the local residents, and recently Aoshima has become a kind of local tourist attraction. It almost seems like the Japanese people are obsessed with cats. From Hello Kitty to Maneki Neko, the Japanese love their felines. So, it is not surprising at all when reading The Cat Chronicles that one sees this total devotion and love an owner, Satour, has for his lovely cat Nana, who by the way is a male. Nana, a stray cat, received his name because of his tail resembling the number seven, a sign of good fortune in the Japanese language.
As we follow Satour and his Nana, we find that Satour, who lost his parents at a very young age, is the type of person we all should strive to be. He is loving, kind, and adores his friend and buddy Nana. In a silver van they travel together, meeting people who made a difference in Satour's life. It's a beautiful story of love and loyalty, an allegiance and fealty to one another that many pet owners have had with their pets over the years.
The writing and story telling is easy, peaceful, a book you can read to your children, grandchildren without worrying about the message it carries, for it carries a message of attachments and bonds that hold people together. I definitely recommend this story to those who love a quiet story that tells a powerful story of devotion, faith, and the integrity of the heart.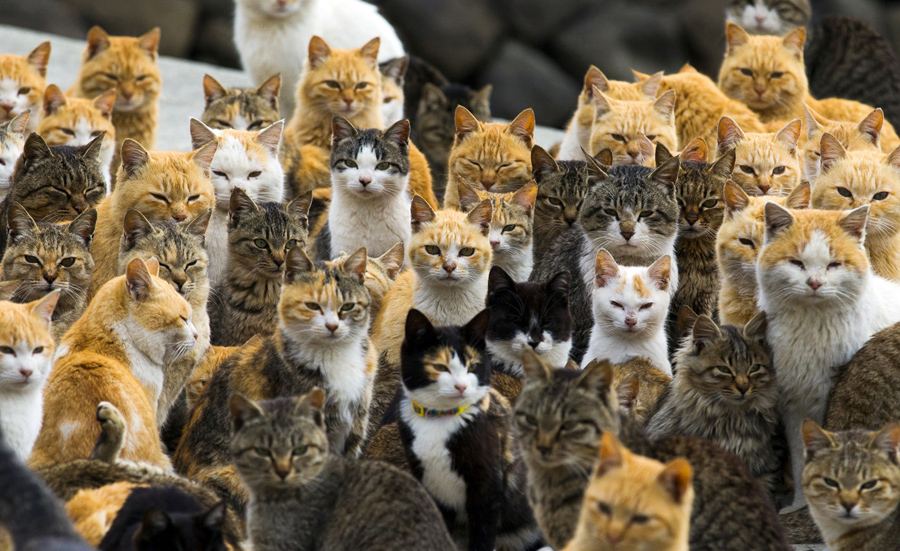 Some of the cats of Aoshima island "In Japanese folklore, cats have protective powers and symbolize good fortune. A bobtail supposedly lured a feudal lord with a "come hither" gesture, which saved him from being struck by lightning. Today, business owners put "maneki neko"
  (beckoning cat) statues in front of their shops, in hope that the moving paw will bring in customers."
Arikawa Hiro, born June 9, 1972) is a female Japanese light novelist from Kōchi, Japan.