Yes, the weekend is over but I did manage to read a very good book and today I am bringing you my review of Nine Perfect Strangers by Liane Moriarty.
Welcome to Tranquillum House, where nine of you lucky people have booked a ten day spa package that includes wonderfully uplifting and totally designed elements made especially for you. You will be pampered, you will be transformed, you will be able to meditate, to grow, to lose weight, to feel as if you are the most important person ever. It will take work on your part to grow healthy, to become aware of your inner self, its fears and abilities. You will be transformed, the pounds will fall away, your mind will be freed, and not a thought of eating or drinking one bad morsel will pass your lips. (no more Doritos for you!) Sounds like heaven right? But, for our nine guests this holiday will be a lot more than any of them bargained for.
Our nine guests come from various backgrounds. First there is Frances, who adds a bit of whimsy and comedy to the group. She is a romance author, bearing a string of successes, but now has fallen on bad times and with an awful review in hand is ever so ready for her spa experience.
There is Tony aka the serial killer, a former football star who is looking to recapture a bit of his former self, the jock, the man who had it all. He needs to knock off a couple (well really a lot) of pounds feeling that alone will bring him back into the realm he once knew.
There is Napoleon, his wife Heather and their soon to be twenty-one year old daughter still bearing the hurt and anguish of a family tragedy. They blame themselves for this happening and are still confronting the tragedy years later.
Then there is Ben and Jessica, a young married couple, flush with new found wealth who are struggling to keep their marriage alive and there is Carmel, a divorcee, coping with the concept of not being enough of a woman while her ex husband has found himself a new beautiful wife, leaving Carmel devastated and competing with the new wife for her four daughters' affection. Lars a divorce lawyer, rounds out the group. He is wealthy and successful and only handles cases representing the woman in the divorce.
Brought together by the owner of the spa, Masha, a Russian immigrant, who has various ideas, concepts, and ways in which she will get her clients to her idea of nirvana. Indeed some of these ideas are quite out of the mainstream, somewhat outlandish, and possibly dangerous.
Told with many touches of humor, the story focused on some rather darker elements. The journey that Masha wants her patrons to follow is one that produces some very interesting outcomes. Her methods are bizarre, and Masha herself seems a bit off kilter, (aka nuts)! Assisted in her peculiar strategies by her assistant Yao and Delilah, Masha puts her theories to the ultimate test and in the end manages to effect changes in these nine guests. Are these the changes these people wanted or are they changes in which they find themselves in desperate straits?
I read this well done story of character and the ability to change with my book buddy, Jan. We thought this book offered a fine example of women's fiction that dealt with complex issues we often face in a way that was poignant and understandable. We very much enjoyed this journey with these nine strangers and come out knowing them so well that they were no longer strangers at all. We will never look at spas the same way ever again!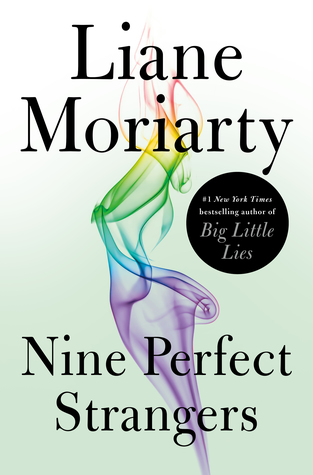 and here's the author:
Liane Moriarty is the Australian author of six internationally best-selling novels, Three Wishes, The Last Anniversary, What Alice Forgot, The Hypnotist's Love Story and the number 1 New York Times bestsellers, The Husband's Secret and Big Little Lies.
Her breakout novel The Husband's Secret sold over three million copies worldwide, was a number 1 UK bestseller, an Amazon Best Book of 2013 and has been translated into over 40 languages. It spent over a year on the New York Times bestseller list. CBS Films has acquired the film rights.
With the launch of Big Little Lies, Liane became the first Australian author to have a novel debut at number one on the New York Times bestseller list. An HBO series based on Big Little Lies is currently in production, starring Nicole Kidman and Reese Witherspoon.