It's 1935 in Czechoslovakia, a pre-Nazi era is upon us, and a mass killer of epidemic proportions, is continuing his bold ruthless killings. It is a time of fear, a time of dread and horror that runs through the city of Prague as the police seem to try in vain to catch the diabolical killer know as the Leather Apron killer. All this murder, mayhem, and fear takes place in the book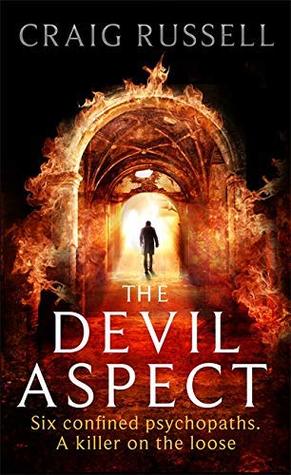 Viktor Kosrek, a newly trained brilliant psychiatrist has arrived at Hrad Orlu Asylum, a state of the art asylum housed in a castle that has its fair amount of strange and evil legends surrounding it. Viktor was trained by the eminent Carl Jung, and arrived at the castle armed with a theory that if he is able to reach deep inside its patients, he will find their devil's aspect, the momentum, the evil, that drove them to arrive at this institution for the criminally insane. Then and only then, he will be able to drive the evil out and cure them.
Within its concrete walls are housed the most dangerous of the insane. There are six patients, those who will never be released, always to be watched, guarded, and these are the patients' that Dr Kosrek hopes to help.
In sessions with the most notorious killers in Czechoslavakia, Pavel Zeleny, the Woodcutter, Leos Mladek, the Clown, Michal Machachek, the Glass Collector, Hedvika Valentova, the Vegetarian, Professor Dominik Bartos, the Sciomancer, and Vojtec Skala, the Demon, he learns of their crimes in details that are horrific and abhorrent, their intentions, and their thirst for blood and death. He also learns that they seem to share a common thread, a common inner self that drives them to do what they did, a kind of split personality, a terrifying inner self. It seems as if the same spirit is the one driving them forward, the devil they all see in the shadows of the dark, the evil that resides in them, that is fueled in them, that has selected them to go forth and commit heinous crimes
Meanwhile, the outside village contends with The Leather Apron killer and the people left dead by his hand in the most macabre and gruesome ways. Is this person,this killer tied to the six in the castle? Could one of them be this wanton killer?
The author does an extremely fine job of creating an atmosphere of dread and fright. He weaves together history, Jack the Ripper and others who have bestowed murder and death upon others set up against the oncoming rise of the Nazi movement. …..And then there is his conclusion, a jaw dropping finale that made this book filled with horror and grisliness, turn at the end sending shivers down one's spine. I recommend this book to those who enjoy books that explore the dark side we have have within us and the evil that lurks in our world ready to sally forth at any opportunity. .
Thia book is due to be released on March 5, 2019
Thank you to Craig Russell, Doubleday Books, and NetGalley for an early copy of this book.
and here's the author:
Craig Russell, also known as Christopher Galt, is a British-born novelist and short story writer. His Hamburg-set thriller series featuring detective Jan Fabel has been translated into 23 languages. Russell speaks fluent German and has a special interest in post-war German history. His books, particularly the Fabel series, tend to include historical or mythological themes.