Where do you go when your heart is broken, when you have lost everything that is precious to you? Where do you find solace? Where do you find escape and comfort? For Loveday Cardew, that place was a bookshop, the place where she can remain hidden behind the pages of a book, a quiet place where the memories are kept at bay. In the lovely poignant book, Lost For Words, we meet a grand assortment of characters who are bigger than life and there to help the fragile Loveday find what she needs and what she is searching for.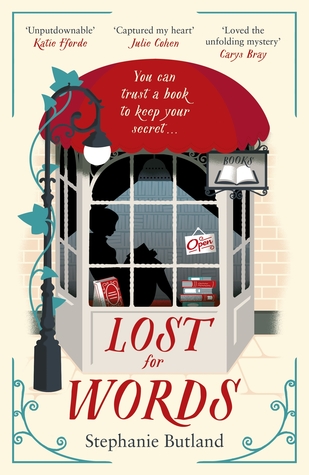 Loveday has faced much in her young life. She had what she thought was a safe, loving family life, until her dad lost his job and life turned bitter. The family beset by the loss of income now faced something dark and evil within the dad. He was still loved but not understood and when tragedy happened, Loveday is separated from her mother, lives in foster care, and retreats into a shell where books are her sole companion.
However, Loveday is not alone. She has Archie, the owner of the bookstore where she works and she has Nathan, a poet, a magician, a man who understands Loveday and tries to make her once again happy, to once again know love. She has love surrounding her, but she just does not know how to allow it into her heart.
This was a lovely story, so heart warming with a bit of whimsy that Ms Butland puts into her characters. They have a flair for living, a joy for the way in which life has taken them and in Loveday, she has created a character that moves the reader into rooting for her and standing with her as she faces the challenges of a life that has dealt a number of blows to her soul.
Recommended to those who love books, (and who among us doesn't) and to those who love a charming story about the loss of love and the finding of it once again.
"There's the simple love of books, of course: the knowledge that here is an escape, a chance to learn, a place for your heart and mind to romp and play."

and here's the author:
Her writing career began with her dance with cancer, and now she is  a novelist.
Stephanie Butland is a writer, who is thriving after breast cancer. (She used to say she was a survivor, but that was a bit lacking in joie de vivre.)
Although she'd never have chosen it, her dance with cancer has changed her life in many positive ways. Now she is happier, healthier, and more careful with her precious life and the precious people and things in it.
Aside from writing, she works as a speaker and trainer, and she works with charities to help raise awareness and money in the hope that cancer will soon be about as scary as a wart. She lives in Northumberland.