Sometimes the answer is there right before your eyes. Oftentimes I "need to open my eyes and look—and be aware of life as it is happening, and not simply how I want it to be." Welcome to the world of The Silent Patient, a book that can pretty much twist the reader around its pages and spit you out with more questions while putting you through a wringer of the unexplained, the undiscovered, and the unrecognized.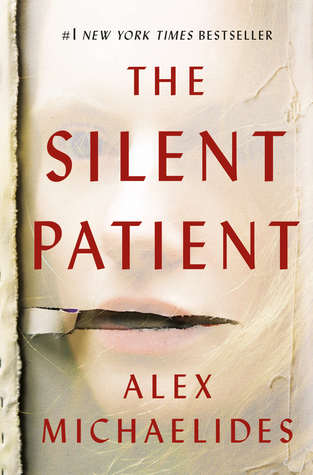 Jan's review
Once I picked this book up, I couldn't stop reading and finished this book in two sittings. I was intrigued right from the start and found it to be quite the page-turner. Theo is a psychotherapist who has issues of his own (don't they all?) but he finagles his way into a job at a psychiatric facility so he can work with Alicia, a patient who was found guilty some years earlier of killing her husband, Gabriel, by shooting him in the face five times.  She has not spoken a word in the years since the murder and Theo is convinced he can help her.
I'm not going to go into details of the plot as it's best discovered by the reader. But, what follows is a twisty tale that took me by surprise. Sometimes an ending or twist comes out of nowhere, without warning. But, the author gave us all the clues, I had just failed to put them all together. And that is my favorite kind of mystery book. There were no rabbits pulled from a hat and no twists just for the sake of shocking the reader. In the end, I found myself smiling and thinking "well-done".

Is it perfect? No. Are there a few plot holes? Yes. Did I have to suspend some disbelief? Yes. Did the author tend to over explain things at times when we can figure it out on our own? Yes. Did I care? No. For a fun quick and addictive read, this fit the bill quite nicely.
This is a fantastic debut and I can't wait to see how he develops as an author. I'll be sure to read his next book.
This book will make a terrific movie if Hollywood does it right.
This was another great buddy read with my friend Marialyce!
Marialyce's review
In this book, Alex Michaelides poses the ultimate question. How can one offer a defense when one refuses to speak?…. and yet the book opens with this… "Alicia Berenson was thirty-three years old when she killed her husband." Alicia, had it all, a loving husband, a great career, a witness to murder perhaps, a murderer herself perhaps. She was a darling of so many, loved, desired, and totally nuts! And yet, with Alicia reverting to a silent world how can one be sure of anything?
Enter Theo Faber, criminal psychotherapist, who is chomping at the bit to get a crack at Alicia. She's a challenge so when he lands his new job at the facility where Alicia is housed, he's all in to get to the bottom of things. Poor Theo, though is undergoing some issues in his private life. His wife Kathy seems to have picked up a bit of an outside interest so Theo is involved with figuring out where things are going especially as it seems it's moving in the wrong direction. Dear Theo has got his hands full for sure!
All this intrigue is handled quite nicely by the author. He weaves a tale so well that a web forms and we find ourselves ensnared in it branches. This book will toss you around on an open sea of emotions, making you question everything, and wander around in the snares of deceit and duplicity. It's a definite conundrum and the ending and perhaps all you thought was going on is turned topsy turvy making you realize that "Love that doesn't include honesty doesn't deserve to be called love."
Jan and I read this gem together and decided that this new author needs to get busy and write some more puzzling mystifying thrillers. Happy to hear that this book will be turned into a movie. Let's hope Hollywood does not mess around with a really good story line and leave this book just as it is.
and here's the author:
Alex Michaelides was born in Cyprus in 1977 to a Greek father and English mother. He studied English literature at Cambridge University and got his MA in screenwriting at the American Film Institute in Los Angeles. He wrote the film The Devil You Know (2013) starring Rosamund Pike and co-wrote The Brits are Coming (2018), starring Uma Thurman, Tim Roth, Parker Posey and Sofia Vergara. THE SILENT PATIENT is his first novel.
https://celadonbooks.com/novel-inspiration-alex-michaelides-author-of-the-silent-patient-on-writing-the-perfect-thriller/