If you could travel back in time would you? Would you do the same things you have done, marry the same partner, have the children you had, lived in places you have lived in…or would you have made different choices, made different decisions, gone along a different path then the one you now find yourself on? Jan and I read this story and though both of us came away with different feelings, we both agreed that life offers us many choices and also thrown many curves at us at record breaking speed.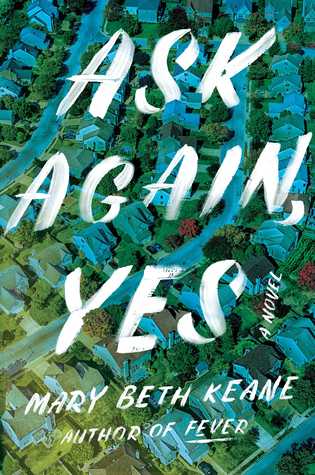 "The thing is, Peter, grown-ups don't know what they're doing any better than kids do. That's the truth."
Jan's review
"Life is top heavy, that what happens early matters the most in shaping you". The author writes beautifully and she showed us this truth in these characters in a way that was profound and deeply moving.  We all start our lives full of promise and hope, never knowing the heartache and trials that await us. Such is life. And most of us would do it all over again.
This is a difficult book to summarize without spoilers so I'm keeping this review short on plot. The Stanhopes and Gleesons become neighbors in a suburb of NYC, when both are young married couples starting their families, full of hope for the future. Although both husbands are with the NYC police department, and are now next door neighbors, they have little to do with one another socially. However, a deep friendship blooms between 2 of their children, Kate and Peter.
Tragedy strikes and the resulting trauma changes the course of their lives. The focus is on how these two families find their way through it and make peace with the past. They go through a world of heartache but, written with empathy and insight, the story is not without hope. Best of all, this story is a realistic one with characters that felt real to me, and ones I came to care about deeply.
" …memory is a fact that has been dyed and trimmed and rinsed so many times that it comes out looking almost unrecognizable to anyone else who was in that room…."
If you enjoy excellent writing and complicated family stories that are character-driven with thought-provoking themes, then pick this one up. A lot of heavy themes are covered but the author weaves them in so seamlessly that it works beautifully.
Nothing I can say will do this book justice. This is a case where the hype is justified and it has earned a place on my all-time favorites list.
· Thanks to Netgalley for a copy of the book in exchange for an honest review.
·     This was a buddy read with Marialyce and a book that sparked terrific discussions. This would make a great book club choice.
Marialyce's review
I will admit I am a stickler for wanting to know the why of everything. I love knowing why people do the things they do, why they make the choices they make, and why when knowing that this is probably not a wise thing to do they do it anyway.
In this story we meet troubled people. Two couples united in their husband's jobs as New York City policemen, their children, and the fact they live next to one another find that through all points to a closeness, a tie that should have binned them together, all is not as it should be.
There are many topics explored in this story, chief among them the effects of mental illness and the devastation it often wields on family, particularly children. We also see the effects of alcoholism and its devastation of not only the alcoholic but also on those who love him. We see the result of parental neglect, that trait of uncaring that makes a child feel always a sense of loss, a feeling of not belonging of not mattering.
It's hard not to feel for the members of the two families we meet in this story, the Gleesons and the Sanhopes. Theirs is a story of hardship, of finding a way through unhappiness, and of love, loyalty and the hope that tomorrow will be a better day.
While I thought the writing was excellent, I was left with some questions about this story. I so wanted to know more and perhaps it is that alone that made this book a bit less than a five star read for me. I do know that looking through another's window never brings you happiness, for what you desire and see is ever so different from what reality says will happen. That American dream of a loving family, a house in the suburbs, and happiness abounding is not reality now is it?
and here's the author
Mary Beth Keane attended Barnard College and the University of Virginia, where she received an MFA. In 2011, she was named one of the National Book Foundation's "5 under 35," and in 2015 she was awarded a John S. Guggenheim fellowship for fiction writing. She currently lives in Pearl River, New York with her husband and their two sons. She is the author of The Walking People, Fever, and Ask Again, Yes.