Book three in the Stillhouse series, Wolfhunter River was another powerful thriller that kept me on the edge of my seat throughout, although all of the previous books did as well. When book 4, Bitter Falls, become available I rushed to press that button and download this book hoping for the thrill I had experienced with the previous books. Thankfully, it was, and I embarked onto another thrilling path with wonderful protagonists and an electrifying read.
Looking for a strong protagonist, one needs to look no further than Gwen Proctor. Gwen, formerly unknowingly married to a serial killer, is now involved in a search for a missing young man in Tennessee. This young man has been missing for three years, and though there are no clues, Gwen, now working as a private investigator, thinks she might be able to find this boy and if nothing else put his mother's heart to rest knowing the fate of her son.
Gwen stumbles onto a cult, one whose origins were inherent in Gwen's former life. It's a cult that threatens, kills, and enslaves women in their clutches. They are evil and the cult's leader mimics those like Jim Jones and others of his ilk. Gwen pits herself against the cult leader and this game becomes one that threatens the lives of her children and the man she loves. It a battle of wits and strength and once again Gwen proves that she is a formidable opponent.
She worries about he children, placing them in the line of fire, even though her goal is always to protect them no matter what. She constantly finds her town in opposition to her and one family in particular the Belldenes seem to have a personal vendetta against Gwen. Gwen is stuck between this family's threat and the cult that is pledged to fight to the death to preserve their evil way of life.
I recommend this thriller and ideally the entire series to those who love to be whisked away for many hours eagerly turning those pages as Gwen fires up and let's go on those who seem to want evil things to happen to her family. Gwen is the true mama bear, so do watch out to those who dare to cross her.
Thank you to Rachel Caine, Thomas and Mercer, and Netgalley for a copy of this great addition to the Stillhouse series. This book is due out January 21,2020.
and here's the author: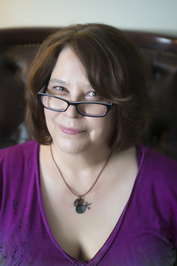 Rachel Caine on Balancing A Successful Writing Career and Multiple Day Jobs