To tell a tale of loss is never an easy task. The heartbreaking moments are many, and the realization hits the reader that these things so well related in a fictional setting did indeed take place in our country. These are things never to be forgotten, never to be relegated to the back pages of history. These are things in which a living nightmare was experienced.
I have been having a bit of a time lately with the historical fiction genre. I have found it to be more on the fiction end of things than on the historical and for me that has been disappointing. However, with Lisa Wingate's, The Book of Lost Friends, I am very pleased to have found a generous believable mixture of both history and fiction. Told in two time periods, 1875 and 1987, we are transported to Louisiana. It is ten years after the Civil War and the slaves have been emancipated but in essence while they are free their struggles have not abated. It is the South with the attitude of the Klan running rampant. It is also the South where slave families have been brutally separated never to see their loved ones. Sisters, brothers, parents, grandparents have been torn from each other and not a day goes by where one of our main protagonists does not feel that all encompassing loss.
Hannie, the former slave, now sharecropper, and two women, Lavinia, the heiress to a run down plantation and her half sister, Juneau Jane, a mixed race child, set out upon a journey to find their father, to settle an inheritance, meeting dangers along the way and hardship. Hannie, rekindles, as they travel, that question that plagues her constantly, could my family, that was torn from me and sold off, be out there? Hannie so desires connections just as the two half sisters do. Hope dwells in the heart of Hannie and of course the sisters as well. As they travel the book of lost friends takes on a great importance for it is in that book that people pour out their loss of family pining for the time when they can reunite with loved ones. The people in the book pledge their anguish which is then printed in a paper distributed to churches far and wide and read aloud in churches. Names are read, lineages are given, and perhaps some day families and loved ones will be reunited..
The other part of the book which alternates with the 1875 component, deals with a teacher, Benedetta Silva, hoping to cancel her student debt by teaching in a run down poorly serviced school. She is the teacher to a group of high school age disadvantaged children who see no value in learning. She becomes discouraged, disappointed, and bereft as she combats apathy, hopelessness and despair. Bennie trips onto an idea, a glimmer of something that might spur her recalcitrant students. Can a project reconnecting the kids with the past of their town, ignite something in them? It's a risk but one Bennie feels in her heart is well worth taking.
Connections are drawn, family is discovered, and there is renewed interest, understanding, and love shared as the happenings of 1875 unite with those of 1987.
I recommend this book for the gentle telling, the awakening to the horrible instances that happened to so many in our country's history, and the part that history can and does play in the realization that remembrance brings so much into our learning of life.
Thank you to Lisa Wingate, Random House-Ballantine Books, and NetGalley for a copy of this wonderful book due out April 7, 2020.
and here's the author: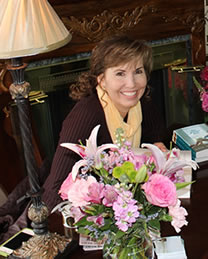 Lisa Wingate is the author of the #1 New York Times bestseller Before We Were Yours, which remained on the bestseller list for fifty-four weeks in hardcover and has sold over 2 million copies. She has penned over thirty novels and coauthored a nonfiction book, Before and After with Judy Christie. Her award-winning works have been selected for state and community One Book reads throughout the country, have been published in over forty languages, and have appeared on bestseller lists worldwide. The group Americans for More Civility, a kindness watchdog organization, selected Lisa and six others as recipients of the National Civies Award, which celebrates public figures who work to promote greater kindness and civility in American life. Booklist summed up her work by saying, "Lisa Wingate is, quite simply, a master storyteller." She lives with her husband in North Texas. More information about her novels can be found at www.lisawingate.com where you can also sign up for her e-newsletter and follow her on social media.