It is October,         the month of Halloween and what better a book to read than one that had mystery, eeriness, a Gothic feel, and a witch too? Welcome to a book that has all of these elements.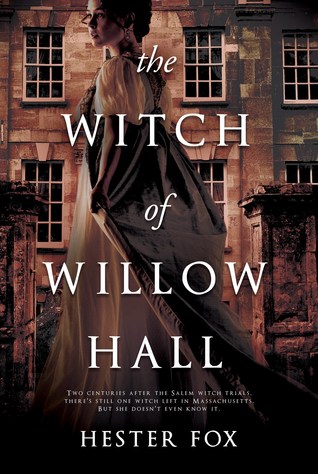 There are things afoot at Willow Hall. The family Montrose, have moved into their country home. Fleeing from Boston because of a scandal, the sisters Catherine, Lydia, and Emeline are forced to take residence in this omnivorous home. The year was 1821, and the happenings in and around the home, seem to bring hints of something strange, something otherworldly, something supernatural.
Catherine, spoiled and beautiful, thinks herself to be alluring to all men. She plots and schemes to entrap one of the men who come into her circle. For Catherine harbors a secret, a terrible secret, that she hides doing anything she can to keep her mission going, that of marrying John Barrett or his friend. Catherine needs a husband and what Catherine needs, she will get, letting no one stand in her way.
Lydia, unaware of what she is, contends with Catherine's artifice eventually learning Catherine's secret. Lydia finds herself attracted to John Barrett, her father's partner, but of course feels Catherine's beauty will entrap John. Lydia also carries a secret, there is something different, something eerie, something shudder some about her. What is it that seems to stir up things around her?
John Barrett is a wonderful character, a man who is so reminiscent of Heathcliff, as he carries his own secrets in a brooding style, holding himself back and in check.
Emeline, the youngest daughter, seems to also have a certain aura about her. She is mysterious, ethereal, and haunted. She becomes trapped into seeing things that should not be there, eventually leading her to a horrible place that devastates the family.
This was a ominous tale, one that fleshed out the characters so well, one that made these characters feel real, made their actions so in accord with the Gothic atmosphere of the story. Willow Hall had that aura to it, that impression that all was not right and there was something lurking within its confines. I could not help but think of the moors where Catherine and Heathcliff once roamed.
I recommend this book as one that was disturbing and macabre. This was an excellent debut for this author. If you are looking for a story to fill your October nights,  
  this book might just satisfy your need for the sinister, the ghostly, and the menacing. Nicely done Ms Fox!
Thank you to Hester Fox, Graydon House, and Edelweiss for a copy of this Gothic tale.
   Hester comes to writing from a background in museum work and historical archaeology. She loves the Gothic, the lurid, the dark…so long as the ending is a happy one. She has never seen a ghost, though she remains hopeful.
Hester lives outside of Boston with her husband. THE WITCH OF WILLOW HALL is her first novel.  http://www.hesterfox.com/